Interested in learning more about I-Corps?

I-Corps Programs
As part of the Great Lakes Hub, Illinois I-Corps offers a series of programs to assist faculty, staff, and students in commercializing their research.
Jumpstart: Technology Commercialization Workshop
Jumpstart Technology Commercialization courses help faculty and graduate students explore the commercial viability of their technology-based innovation ideas. The course uses the Lean LaunchPad approach (also called Lean Startup), a process to systematically test key assumptions about technology-based innovation ideas and the customer problems it might be able to solve better than current alternatives.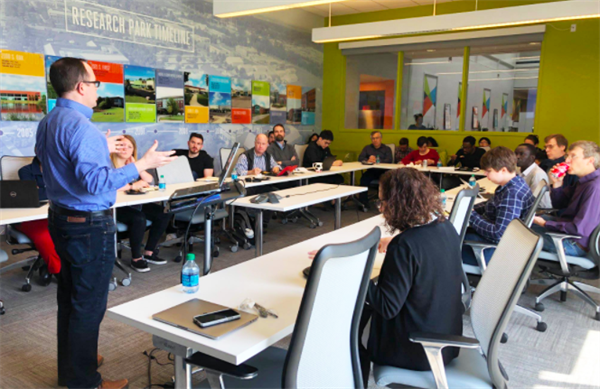 Lean Launchpad Short Course
The Lean Launchpad Short Course uses the Lean LaunchPad method to give participants a working knowledge of how to think about their innovation ideas from a business and customer perspective, as well as how to properly conduct customer discovery interviews; the first step in any commercialization process.
National I-Corps
The National Science Foundation Innovation Corps (I-CorpsTM) program is designed to prepare scientists and engineers to extend their focus beyond the laboratory and to accelerate the transfer of cutting-edge, NSF-funded research into commercial success. Through extensive customer engagement, teams are able to validate potential applications of their technology.
SBIR & STTR Assistance
When it comes to actually being awarded funding, entrepreneurs are 100 to 200 times more likely to get an SBIR grant than venture money. The Small Business Innovation Research (SBIR) and Small Business Technology Transfer (STTR) programs provide qualified small businesses, with opportunities to propose innovative projects that meet specific federal needs.
Let the numbers do the talking.
When identifying and addressing real world problems, I-Corps can help you do in seven weeks what might otherwise take months or years to accomplish. With I-Corps, your team is 60% more likely to receive follow-on funding such as a SBIR grant. (Supported by evidence-based claims with data from the people who matter the most - your customers.)